When a poet dies
there is less light in the world
to see things.
When a poet dies
the birds have one less trajectory
among the possible ones,
and they don't notice.
When a poet dies
evil smiles
happy
of having lost an adversary.
When a poet dies
my life is smaller
my hope lighter.
A. Merini, When a poet dies
If there was a moment between the end of the last millennium and the beginning of the new one in which we daydreamed that videogames could become something that you can't buy by the kilo, we owe it to authors like Benoît Sokal, who crossed the Rubicon of prejudice lending their art to what was still considered a second rate medium.
To a large extent that experience failed miserably, overwhelmed by the needs of the market and the rise of a completely different vision of the video game, much more miserable, but not without leaving an important legacy for anyone who wants and knows how to grasp it. For this reason it is right to remember the figure of the Belgian cartoonist, who died on May 28, 2021 due to heart failure: not to forget that at some point we really tried and we also had all the means to succeed.
Sokal cartoonist: a brief biographical note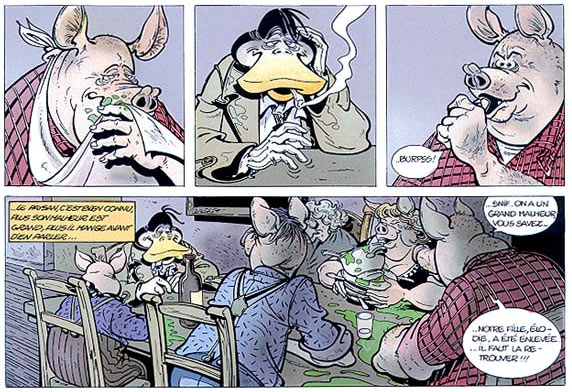 Il papero
Canardo, the character who launched Sokal
Benoît Sokal was born in Brussels on June 28, 1954. His long career began in 1978, on the pages of À Suivre, for which he drew the character of Canardo, a depressed detective duck who was far too addicted to smoking, alcohol and women, which immediately launched him among the great comics of the transalpine world, achieving great success. In 1987 he began publishing Sanguine, a realistic comic with a historical setting, which showed his versatility not only in dealing with different themes, but also in being able to modulate his drawings to accompany them. In 1990 it was the turn of Silence, on Tue!, a detective comic strip created together with the cartoonist François Rivière, then five years later it was the turn of Le Vieil Homme qui n'Écrivait Plus, another realistic comic strip with a very strong impact.
Unfortunately, his comic strips have almost never been translated into Italian: there is a book, Due Inchieste dell'Ispettore Anatroni (Two Investigations by Inspector Anatroni), which collects some of Canardo's stories, but it can only be found on the second hand market. The same thing happened to some strips, also by Canardo, that could be read in the magazine Alterlinus, closed in 1986. It is therefore not easy for us to understand the size of the character and his importance in the world of French comics, which is much richer and wider than ours.
The arrival in the world of video games: Amerzone
Amerzone is Sokal's first video game
Sokal's videogame turning point comes in the mid-1990s. We are in a period of profound change for the world of video games. The success of titles such as Myst and The 7th Guest, just to name a couple, helped enormously in the diffusion of the CD-Rom as a data support, contributing also to a strong change in the public's perception of video games, which in some cases are presented as real multimedia works.
This is an important step, that will marginalize a certain way of conceiving the medium and that at the same time will introduce completely new problems, linked to the almost unprecedented mixture of languages present in the single works. In particular, point and click adventures were almost completely converted to multimedia, in order to survive. The approach given to the genre by Sierra On-Line was overcome by the need to reach a wider audience, to compensate for the increase in production costs, which between movies and 3D almost forced skyrocketed.
Filling a CD-Rom was not an easy task for development teams used to fighting in the cramped spaces of cartridges and floppy disks. Above all, many did not have artists able to characterize their works, which often ended up being anonymous and visually very awkward.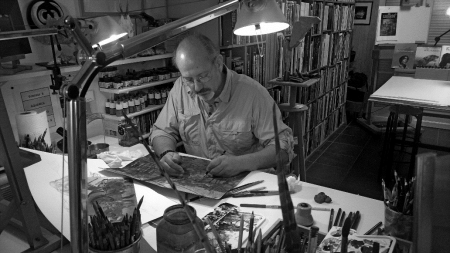 Sokal at work
To say that the artistic direction of video games was born in those years is a blunder, but to say that it was in that period that it began to take on more and more importance is not entirely incorrect, especially in countries like France, where the video game matrix was decidedly more cultured than American or English productions.
What we can call the French school of videogames has always been linked to the world of comics, from which it drew heavily since the 80s, not only to have characters to throw in some licensed action, as done for years by U.S. publishers, but also to study the linguistic and stylistic elements. It is not by chance that titles such as Another World or Alone in the Dark come from French authors. It is also no coincidence that at a certain point an established author like Sokal became interested in video games, given that in France the medium enjoyed greater credit than in many other territories, even those in which the market was richer.
Sokal's first video game was Amerzone (1999), a first-person adventure of a classical kind, in which the player plays the role of a journalist assigned by Alexandre Valemmbois, an old explorer, to bring a white bird egg back to the legendary region of Amerzone, from which he had stolen it a few years earlier. All this translates into a journey between the mechanical technology of the Hydraflot, a multifaceted vehicle capable of adapting to all conditions, and the magnificent natural places, for a gameplay that is inspired not a little by the various Myst and Lighthouse.
Published by Microids (label with which Sokal will launch all his games, except Paradise), Amerzone was a great success with critics and audiences. It was definitely not an original game, but at the same time it had a strong style and an engaging narrative that made the experience very different from other adventures of the same type. Pleased with Amerzone's feedback, Microids then granted Sokal the opportunity to make another video game, this time divided into two parts: Syberia.
Syberia
The first two Syberia games are surely the best known and loved among Sokal's videogames, as well as the one in which graphic style, puzzles and gameplay form an inseparable whole. The game tells the story of Kate Walker, a New York lawyer sent by her law firm to Valadilène, a fictitious village in the French Alps, to define the acquisition of the local automated toy factory, after the death of the last owner, Anna Voralberg.
Here Kate learns that in fact the last heir to the factory, Hans Voralberg, is still alive, so she sets off on a long journey in search of him to get him to sign the documents she needs for the takeover, aboard a railway created by Hans himself. What was supposed to be a simple business trip, however, turns into something deeper: looking for Hans, Kate will have the opportunity to reflect on herself and her life, until she decides to abandon it completely to help that strange man obsessed with Mammoths to fulfill his dream.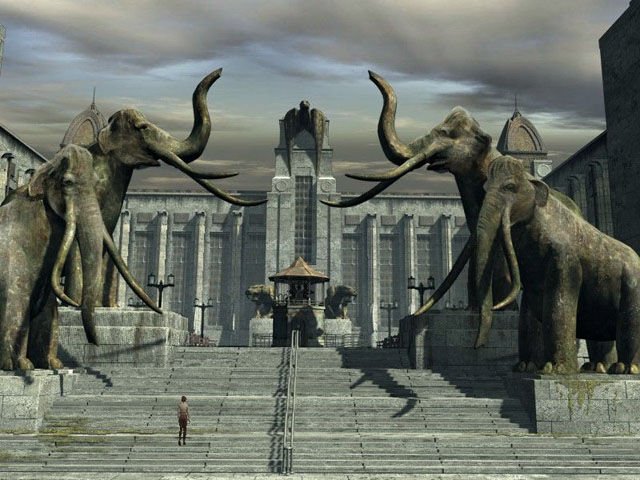 One of the scenarios of the first Syberia
Developed in Montreal by a medium-small team directed by Sokal himself (we are talking about 35 people for a budget of two million euros), Syberia immediately surprises for its completeness and for a strong and recognizable artistic direction. More Sierra adventure than Myst, Sokal transforms each scenario of the game into a painting full of symbols and allegories, creating a world of amazing imagery, strongly characterized in the smallest details. Kate Walker becomes an alternative female model to those in vogue at the time in video games: she is a strong and courageous woman, desexualized in appearance, however fascinating, who faces a journey of physical and intimate maturation that will transform her enormously, making her discover her true desires.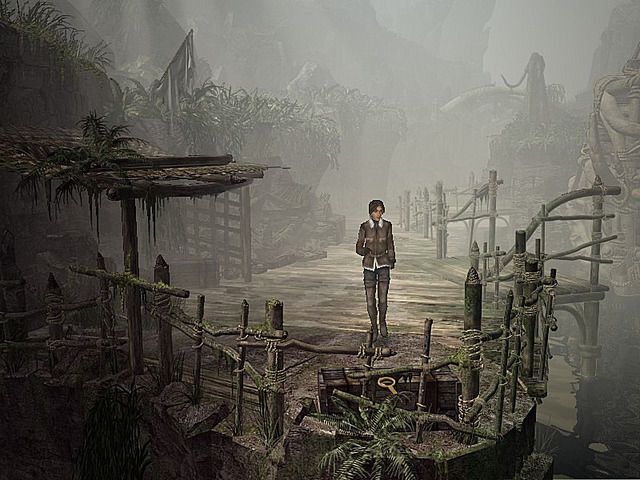 Syberia 2
The first Syberia, which stopped at the discovery of Hans, was very successful for a graphic adventure. As of 2008, 1 million copies of the game have been sold worldwide and on all formats. In 2016 the sales figures are updated and we talk about 3 million copies sold, considering reissues and new versions. Syberia 2, which concludes the story (at least so it was thought), was completely in line with the first episode from the point of view of style and gameplay and also made similar sales, to the delight of publishers and developers. After Syberia, Sokal decided to found his own software house, White Birds Productions, with which to continue making graphic adventures, but exploring very different scenarios. His career as an art director of video games seemed to be well on its way and his name now meant something to gamers. At least in appearance.
The post Syberia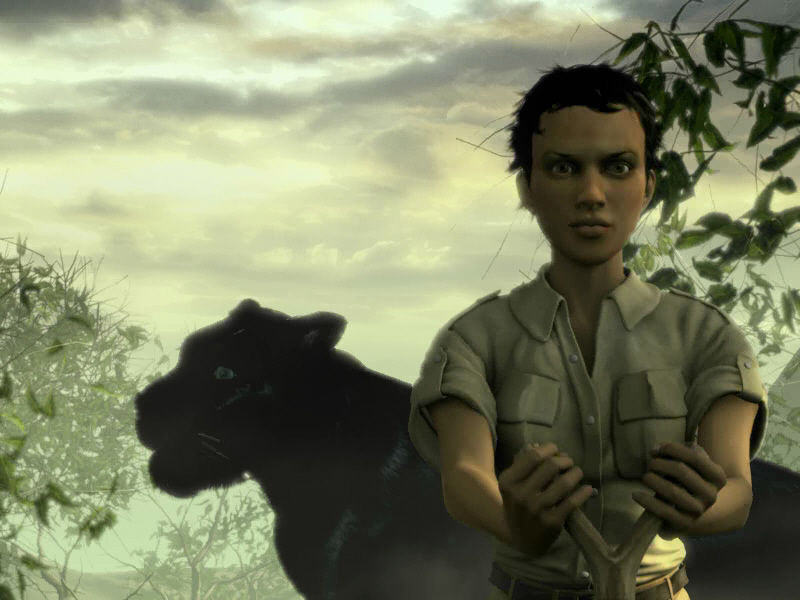 Paradise tells of another strong female character
With Paradise (2006), the first post-Syberia adventure, Sokal experiments even more, trying to make a strongly visual title, in which the story is only a rarefied element on the background of the images of an African hinterland plagued by civil war. The story of Ann Smith, a princess victim of amnesia who tries to return to Geneva, what she considers her real city, because she does not remember the purpose of the mission that brought her back home, to the fictitious state of Maurania, is only a pretext for staging a world of exotic and distant beauty in which all the themes dear to the author find a home, starting with the contrast between nature and culture.
Ann is a multi-faceted and complex character as was Kate Walker and the entire adventure tells of her physical and inner journey towards the truth. Much more cryptic than Syberia, Paradise was not as well received by gamers, who misunderstood it probably looking for something that was not there and did not want to be. Currently it is the only adventure of Sokal not available in digital stores (Ubisoft does not seem interested in republishing it).
The same year of the publication of Paradise, of which he also wrote the script for the comic version, drawn by Brice Bingono, Sokal received the appointment of Knight of the Ordre des Arts et des Lettres in France. The following year he will receive another honor: that of officer of the Order of Leopold, this time in Belgium.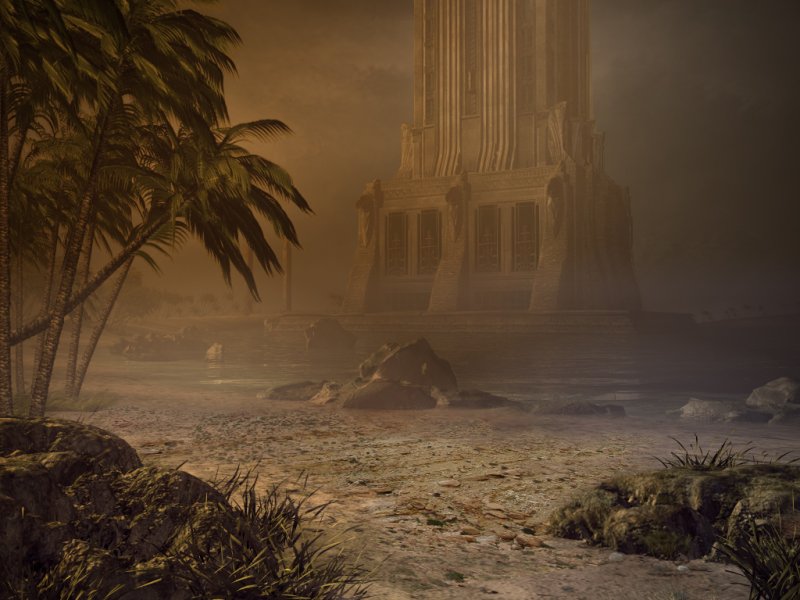 With Sinking Island Sokal comes closer to his classic comics works
A similar fate to that of Paradise happened to Sokal's next game, Sinking Island (2007), which also passed unnoticed and widely misunderstood, in which the Belgian author wanted to return to his origins, proposing a story much closer to Canardo than to Syberia. Here the protagonist is called Jack Norm, an investigator who must shed light on the murder of Walter Jones, an 82-year-old billionaire who lived on Sagorah Island, inside what was supposed to be his greatest work: a majestic Art Deco hotel designed to accommodate the richest men on the planet. All of this translates into an adventure with lots of dialogue, in which Norm must go from one side of the island to the other hunting for clues, often talking to the characters that populate it.
Many found it too repetitive, not stopping to think about why certain dialogues and certain design choices, related to the investigative nature of the adventure. The Italian version, unfortunately, was also a victim of dubbing hands in the hair, which ruined a lot of the atmosphere. Despite this we are faced with another work stylistically curatissima, in which the author directs a crescendo of situations that leads to a final very sophisticated and well written, which certainly does not leave indifferent.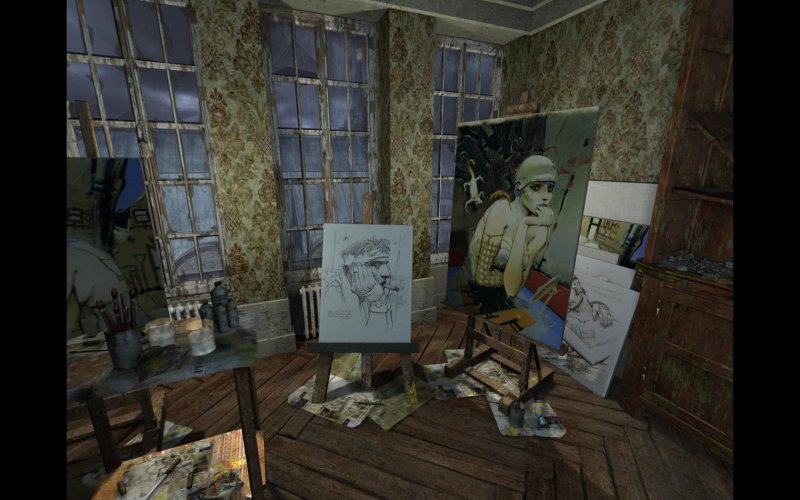 In Nikopol is left room for the style of Enki Bilal
Nikopol: Secrets of the Immortals (2008) closes the post-Syberia period of Sokal (if we don't consider Last King of Africa, port of Paradise for Nintendo DS). This time Sokal decides to start from the work of another cartoonist, the Nikopol Trilogy by the French-Yugoslavian Enki Bilal, creating a less personal title, but still with a fascinating imagery, in which the player plays the role of Alcide Nikopol, a penniless artist adored by some strange Egyptian gods, who moves in a futuristic Paris ruled by Jean-Ferdinand Choublanc, a fascist dictator without scruples. This is a return to the first person for Sokal, who nonetheless appears defiladed in the production, probably not to steal space from Bilal's style.
Return to Syberia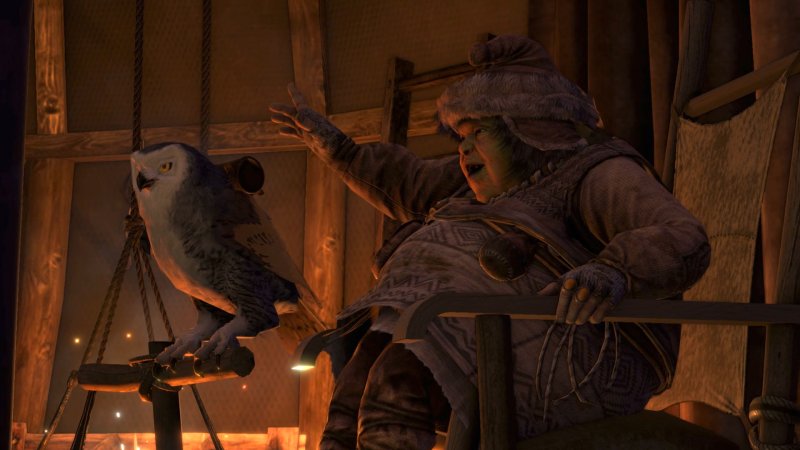 Syberia 3 is considered an unsuccessful chapter in the series
After Nikopol, the production of Sokal and his studio stops. More than a drop in quality, his works appear to be victims of the new collapse of public interest in point and click adventures, a genre that the success of Syberia had helped to revive. In 2010 White Birds Productions goes bankrupt, taking with it also Aquarica, the new work of Sokal that will never see the light. In the meantime, Sokal returned actively to comics (actually never completely abandoned), writing and drawing the Kraa trilogy.
In fact Syberia remains his only lifeline to stay in the world of video games. After years of bargaining, in 2012 comes a new agreement with Microids and Anuman for Syberia 3, which will be published in 2017. Unfortunately, it is not at the level of the previous chapters. Playing it, its nature of compromise is clear: it doesn't want to be a point and click adventure, because point and click adventures don't sell, but at the same time it fails to completely break away from the genre, offering a messy interface that makes exploration frustrating beyond measure.
Even the plot itself, as interesting as it is, seems like a stretch, trying to reopen a story that ended more than satisfactorily with the second chapter, but without being able to maintain a direction as strong. The result is a decent title, which is saved only by the style of Sokal, whose final refers to the fourth chapter, still in production.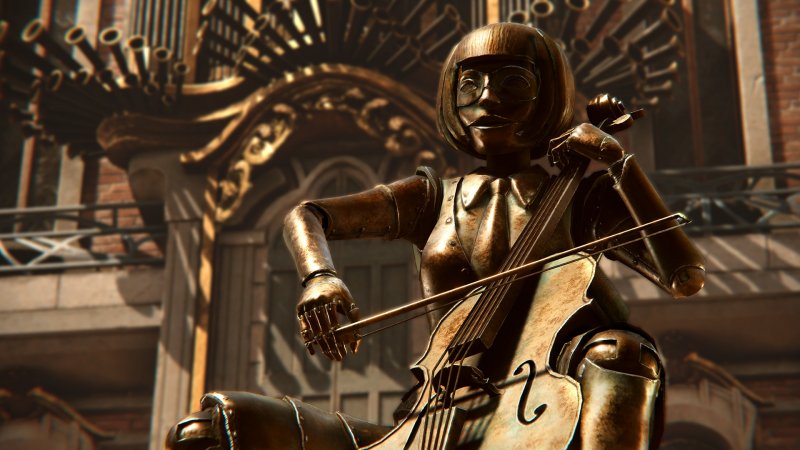 Syberia: The World Before seems to want to resume and expand the imagery of the first two Syberia
Syberia: The World Before is the last chapter in the series (hopefully ever, because this tendency of the video game industry to consider any intellectual property reliable to the first who passes is unbearable and has produced monstrosities unspeakable), which currently has no release date, but of which was published a free demo: Syberia: The World Before – Prologue. From what we could try, the attempt of Sokal is to return in part to the atmosphere of the original Syberia, but introducing more contemporary themes.
The story will proceed on a dual track and will tell on the one hand the story of Dana Roze, a seventeen year old pianist who must deal with the growing racism of Europe in 1937, on which looms the specter of World War II, the other will continue the story of Kate Walker, who we find in the place where we left her at the end of the third chapter: a salt mine.
From the little we were able to try from the demo, Syberia: The World Before seems a title much more solid than Syberia 3, although now we must understand how the development will proceed, since we do not know at what point was the work of Sokal on the plot and scenarios.
Theoretically, the game should be released in 2021, so it's supposed to be in an advanced state of development, but Microids hasn't released any news about it in a while, so we can't take its arrival within the year for sure. Let's just hope it's a worthy tribute to Sokal, that is, his last great work, and not a mediocre product just to exploit the name of its author.