With just a few weeks to go before Pokémon Shining Diamond and Shining Pearl arrive, here are the reasons we loved the original games set in Sinnoh
Pokémon Shining Diamond and Pokémon Shining Pearl will return us to one of the most beloved regions of the Pokémon world: Sinnoh. An island based on the Japanese region of Hokkaido, which we'll be able to explore on Switch from November 19, 2021, in a revamped graphic design.
It's a much-needed remake, unveiled on 26 February as part of Pokémon's 25th anniversary celebrations and created by Japanese studio ILCA in collaboration with Game Freak. If, like me, you've been a fan of Pokémon since Blue and Red, you might not have understood why you were waiting so long, or been too carried away by the excitement of the announcement. And it's not all that surprising: those who spent their childhood with Pikachu and Charmander probably took a break from the world of Nintendo's little monsters right around the time of the release of this fourth generation, when their adolescent spirit pushed them towards other interests, far from the passions that had characterised their childhood.
So why has the internet gone crazy since the first leaks about the return of Pokémon Diamond and Pokémon Pearl? And why is there so much attention on what for many could be just another remake? Well, there are several reasons, and today we're going to tell you about them, starting where it all began: Arceus.
The lore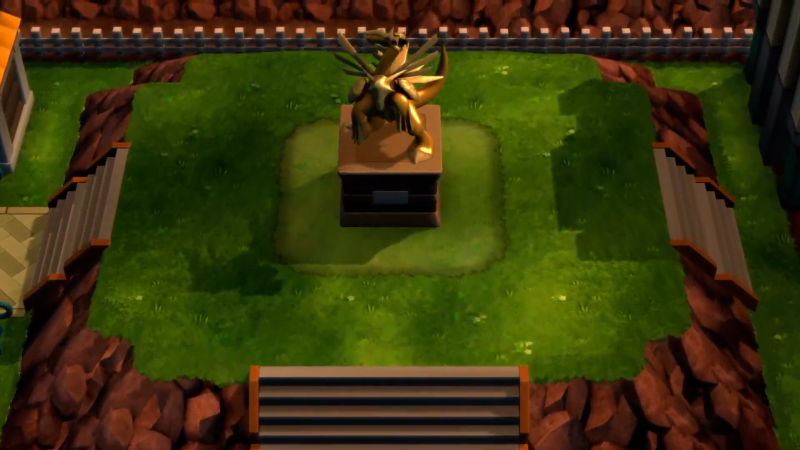 The Sinnoh region in Pokémon Shining Diamond and Pokémon Shining Pearl could rewrite the cosmogony
The Sinnoh region has no direct connection to those of the previous games. It is an isolated, northern area with large, snow-covered mountains. One of them, Mount Corona, divides it into two parts. It is a purely wintery area, so much so that for the first time we found snow-covered trails there.
For this reason, too, the region lent itself well to offering a contemplative experience. And not just because of the slowness of some of the loading and mechanics.
It's the first region that really tells us how the Pokémon world came to be. In fact, the legends of Sinnoh don't just tell us about how the expanses of sea and land were formed. They go much deeper than that. They explain the birth of space and time, and introduce the god who created it all: Arceus.
It's effectively the region of the Pokémon cosmogony, an extremely important evolutionary step for a series that had only taken a few steps towards full self-awareness.
We don't yet know if this lore will be deepened and expanded upon in the remakes, but what's certain is that the connections to Pokémon Legends: Arceus will be inevitable, and we're really looking forward to seeing how they play out on January 28, 2022, when this game also arrives on Nintendo Switch. We'll be following the issue very closely, so don't forget to follow us on all our channels: website, YouTube, Twitch and social, so you don't miss any nuances of lore.
Exploration first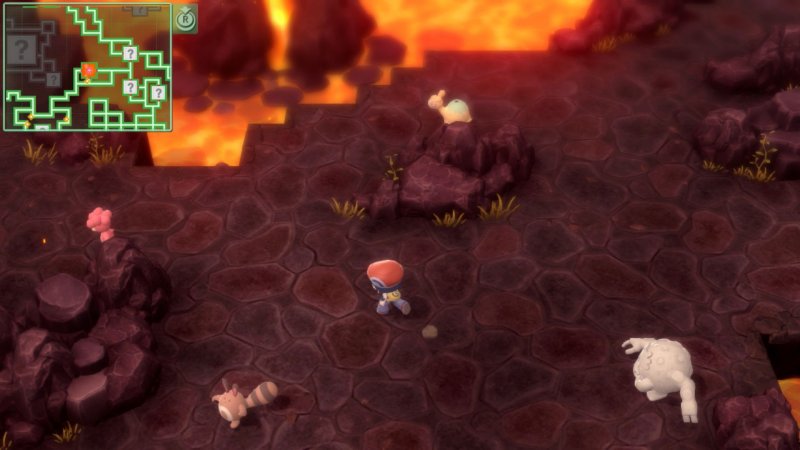 The Underground will also return in Pokémon Shining Diamond and Shining Pearl, in an enhanced version
On the gameplay front, Pokémon Diamond and Pokémon Pearl were also something of an arrival point. And not just for the introduction of fights and exchanges with trainers around the world, or the improved division between physical and special attacks. The sense of exploration, for example, reached a balance and care in Sinnoh that we still remember today. Having overcome the predominance of water routes seen in Hoenn, the fourth generation region makes us feel part of an area with its own stylistic coherence, while still offering a great variety of environments. Villages and small towns stand alongside the modernity of the towers of Jubilopolis. The aforementioned Mount Corona towers over the plains of the three great lakes, home to the legendary guardians of the lakes; easy paths alternate with forests and labyrinthine dungeons.
It is precisely the structure of the dungeons that is one of the most striking features of this region. Mount Hostile is an example of excellent use of verticality and height differences in a 2D map. Mount Corona, on the other hand, required you to cross 14 maps before you could say you had explored every corner.
And let's not forget the Underground, a real game within a game, where we could get lost in search of special tools.
The day/night cycle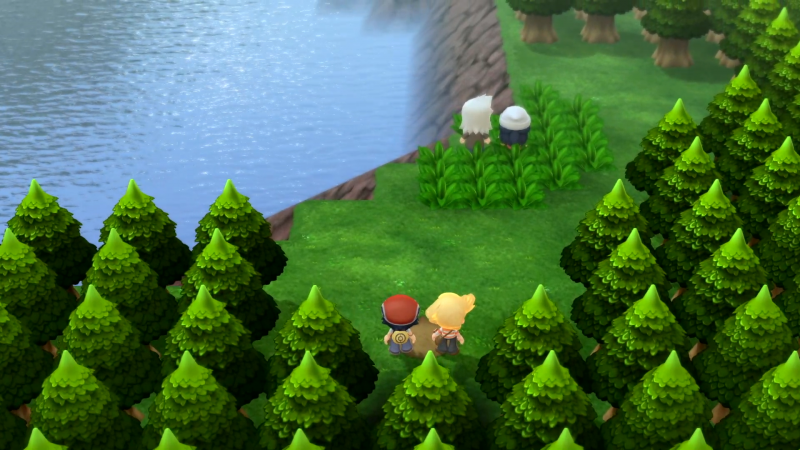 Water is one of the most successful elements of Pokémon Shining Diamond and Pokémon Shining Pearl.
The spirit of exploration, in short, ruled. But there was another element that gave credibility to the world created by Game Freak: the day/night cycle.
Again, this wasn't entirely new, but Pokémon Diamond and Pokémon Pearl took what had been seen in the previous regions to the next level. The transitions between the daytime parts were more pleasant, the bright lights inside the houses gave a sense of warmth, and the soundtrack itself, one of the best in the series, adapted to make wandering around after dark more relaxing.
Generational changeover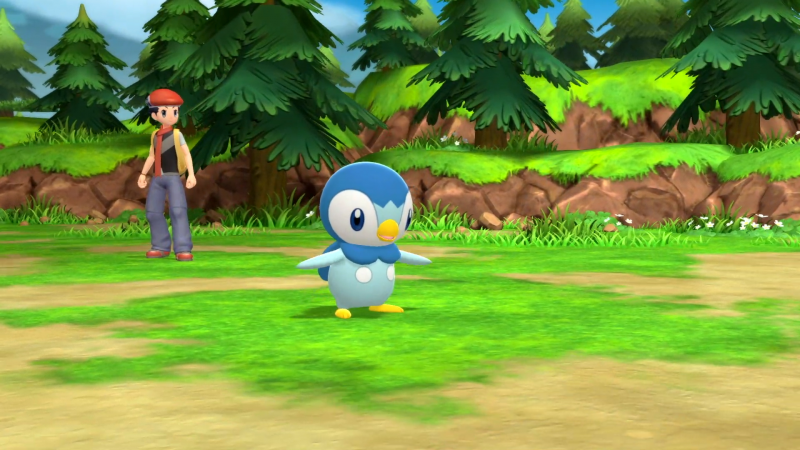 The starters for Pokémon Shining Diamond and Pokémon Shining Pearl will obviously be the same as the originals.
But beyond narrative and gameplay features, there's another element that made the games set in the Sinnoh region stand out. As one generation found itself temporarily less interested in Pokémon, there was another ready to relieve the old guard.
That's why the generational shift between GameBoy Advance and Nintendo DS was not just a graphical one, but also a public one. There's a whole swathe of Pokéfans out there today who have recently decided which college to enrol in, or are juggling their first job offers, but between 2006 and 2007 these kids were engaged in one of the first choices of their lives: who to take as their starter between Turtwig, Chimchar and Piplup on their first Pokémon adventure.
For all of them, Sinnoh has the same sentimental value that Kanto has for us millennials. It's the region that introduced them to the world of Pokémon, and it's the region that may now bring back emotions they thought were lost growing up.
Bidoof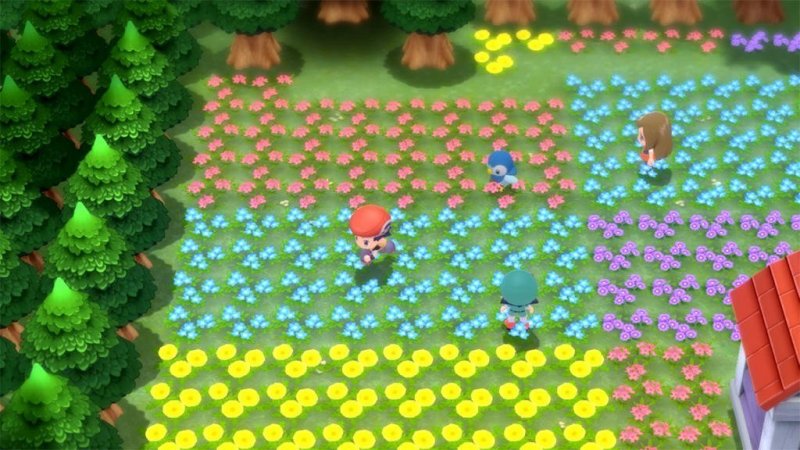 In Pokémon Shining Diamond and Pokémon Shining Pearl, you'll be able to roam around with your Pokémon.
Lastly, the most important reason we fell in love with Sinnoh and its Pokédex is not to be forgotten. In the fourth generation, in fact, the evolutionary line of a fundamental Pokémon is introduced. A true hero, at least for all those who know what a MN is. That's right, we're talking about him: Bidoof, the Topaffuto Pokémon.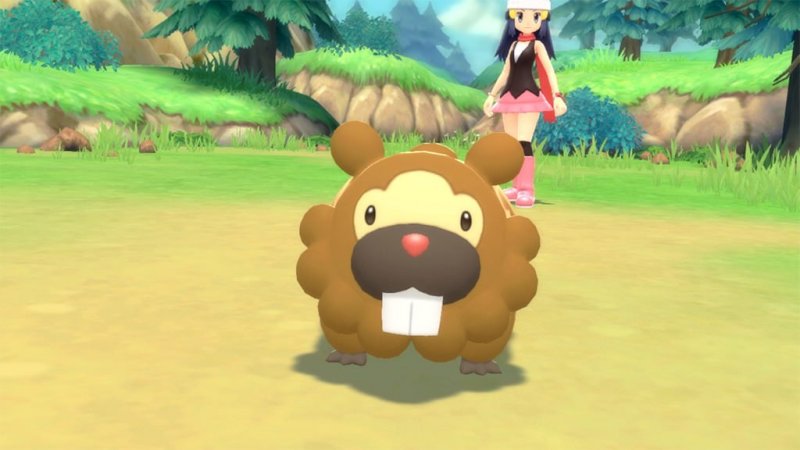 "Bidoof?", Bidoof's first words on Pokémon Shining Diamond and Pokémon Shining Pearl
And that was that. Why are you waiting for the Diamond and Pearl remakes? And which region is most dear to your heart? Let us know in the comments below.